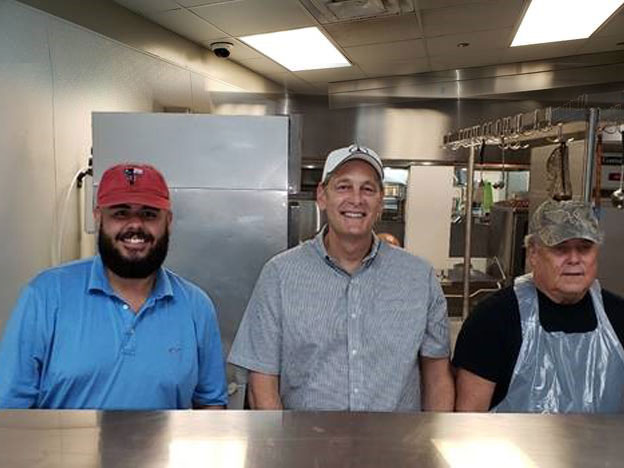 It is the dog days of summer and it is hot, hot, hot in San Antonio.  Fortunately, the homeless in our city have a place to come out of the heat and into a cool air-conditioned space where they are welcomed.  That place is, of course, St. Vinny's Bistro.  With prayers and volunteers St Vinnys Bistro serves the homeless three meals a day, 365 days a year.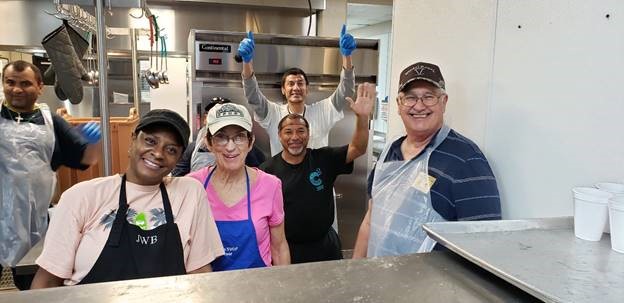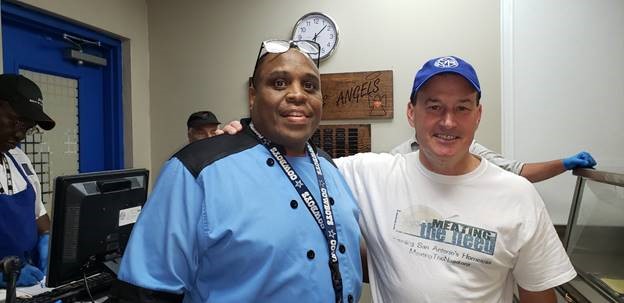 The ranks of the homeless in downtown are swelling again.  Our team last served dinner two nights in a row at the end of July.  We served approximately 470 plates each night.  A large crowd used to be 380 people.  Now, the kitchen is pushing close to 500 plates in an average evening meal.  The kitchen use to close the door at 6:00 but now is staying open later to handle the larger crowds.  Just when the kitchen needs us the most, I unfortunately have had to call Chef Lorris to break the news to him that we have to cut some main course items off our delivery list.  You will see from our list of items below that we had to reduce our grocery list from purchasing $3,450 worth of mostly frozen meats every other week to $2,877.  To make up the difference, I cut 480 Salisbury Steaks and 96 pounds of Stir Fry Frozen Vegetables which are the main items for two evening meals.  Chef Lorris was gracious about it, thanking me for our years of service to the kitchen and how much they depend on and appreciate donations and volunteers.  I still felt like I was partially pulling the rug out from under him. Our sole purpose is to help supply the main kitchen feeding the homeless in our city. So, what to do?
I am asking our supporters and volunteers to consider making a donation through our website. Hit the reoccurring button to make it a monthly donation so we can feed everyone who needs a meal down at the shelter.  Also, you can write a check.
Our latest delivery through our friends at Sysco Foods was Wednesday, August 21st.  Our next delivery will be Wednesday, September 4th. Here is what you bought, and we delivered:
110 lbs. Pollock Fish Patties
100 lbs. Ground Beef
1760 Breaded Beef Fingers
480 Beef Patties (4oz)
120 lbs. Pulled Chicken
420 Breaded Chicken Breast Patties
20 lbs. Shredded Cheese (for Cheese Enchiladas)
500 Polish Sausages 3.2 oz
480 Chicken Fried Steaks
144 oz. of Cream Gravy Mix
30 lbs. Frozen Cut Green Beans
30 gallons Kool-Aid Tropical Punch Drink Mix
288 oz Lipton Ice Tea Mix
198 oz Seasoned Salt
Total $2,877.64